Artefact Project
The Ministry of Culture of the Russian Federation has developed a special Platform of Interactive Guides based on augmented reality technologies. Every National Cultural Institution may join this Platform free of charge completely.
Register on the Platform
How Does Artefact Work?
Install Artefact app to see AR mode in action. Download the exhibition. Push the «Augmented reality» button and point your phone's camera at the exhibit to learn more about it!
Points of interest
Explore Important Details.
Discover interesting facts
Augmented Reality
See the exhibition through the screen of your phone: discover initial sketches and item's condition before restoration
Exhibit Description
Read the articles written by museum professionals and become an art expert
New
Audio Guides
Tired of reading? Listen to voice-over produced by professional voice-actors
Artefact Platform features
Use the admin panel to easily create an augmented reality exhibition.
Points of interest
Describe interesting facts
or exhibit details
Reveal What is Hidden
Place additional images: initial sketches, the back of a painting, object condition before restoration, etc.
NEW
Export from izi.TRAVEL
Work faster on exhibits
Content Editor
Enrich your article with interactive tools: add quotes, photogalleries, 360 degree spins, etc.
New
Audio Guides
There is no need in scan QR code or put the item's number: just recognise the item and run audio guide.
Multilingual
Translate your content to english, french, deutch, italian, spanish, japanese, or chinese
Add Artefact to Your Website
Embed Artefact Exhibits on Your Museum's Website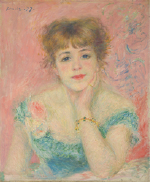 Museum Anywhere
Masterpieces from russian museums collections in your living room
Available on Apple iOS 12
Portrait of the Actress Jeanne Samary
Pierre-Auguste Renoir.

The Pushkin State Museum of Fine Arts. Gallery of European and American Art

Download Artefact for iOS and Android
Available on iOS 11+ and Android 5+
Augmented reality multimedia guide Artefact will make your museum visit more educative.
Explore museum's collections without leaving your home in the Catalog mode.
Artefact app using augmented reality technologies in the cultural space
so you can learn more about works of art
Artefact at the Museums of Russia
The Pushkin State
Museum of Fine Arts
The State
Russian Museum
The Grabar Art
Conservation Center
How does it work?
Learn More About the Artefact Platform